Dear friends, I wouldn't argue about where and why we live better, or about my own words about the following words: "Come to Ireland forever, you will never regret!" No, I will not say these words to anyone, not even our own, for all of us are different in our ideas about human happiness. Nevertheless, in this conversation there is one "but" ...
...
No Green Eyewear about Irish Character :)
There is one "but" ... And it is not so much mine personally - subjective. I believe that many of you who read my articles constantly have already understood that I love Ireland very much, and this feeling of love can always lead the author to unsubstantiated praise, whatever the material in it. This "but" is quite objective, if we start seriously speaking about moving to Ireland. There are really many different and important, from the point of view of our human life, reasons why and why it is worth moving to Ireland, if you have already thought about what you want to change in your life, everything from the place on the globe to the language of communication with neighbors ...
So - let's talk absolutely impartially - how is life in Ireland better? I believe that we all understand that I do not undertake to compare absolutely all countries and continents and carry out statistical and other analyzes in this article, I will speak in simple human language about simple and accessible and understandable to all of us things that influence in general to our such efermerny feeling: whether we feel relatively happy far from the motherland or absolutely and irrevocably - no.
And first of all you need to ask yourself this main question - "And what is a priority for me when choosing a new place for my new life and in my personal life in general?" "I can't foresee all possible answers, but I think it's very it is important - which people will surround us on all sides every day, and how long we will get used to new people and their language, to their culture and traditions, and whether we will like their holidays and calendar weekends, not to mention the most important, what is always mentioned by everyone and above all when going on vacation is about pogo de, about the climate! (About the Irish climate and weather on the Emerald Island, see my articles on these links - Order Rain in Irish! and With a smile on the irish climate
I will begin by saying that Ireland is a very beautiful country, and no one will convince me in this. Yes, this is a very personal feeling. On a small island, the Lord once managed to create for his children, you and me, that is, so much for a wonderful, comfortable and happy life that it is impossible to overestimate, as the beauty of this Emerald Isle can never get bored. There are lakes here, in total there are more than 300, large and small, and their number is able to change the weather conditions in different places of Ireland during the same day, and if it is sunny in the south-east of the country near Wexford / Wexford, co.Wexford almost always, it is in the middle of Ireland, once in the place of the greatest concentration of these lakes and where most of the farms are located, it rains almost daily.
(Somehow I had the privilege of settling in the city of Longford / Longford, co.Longford, so even with my love for rain, my soul couldn't bear that weather - it rained tediously, daily, and it was really summer in the summer and felt from such weather) .
There are big rivers here, and not one, but only the beautiful Shannon / Shannon covers the whole of Ireland and is capriciously spreading wherever it wishes, but at the same time it creates such beautiful creeks or sleeves that once you see such a place you will fall in love with it forever, you will find peace of mind, you will sit with a fishing rod with a blissful smile of a happy child and you will not want to go to Dublin even in your own business. (For more information about rivers and lakes, you can read in my article on this link Great Fishing in Ireland). You, probably, have already heard the famous Irish "Relax, you!"? :) Yes, in many respects Ireland manages to preserve its old-fashioned pastorality, slowness in everything, some kind of idyll in the way of rural provincial life, moreover, life more than prosperous or uniquely rich.
Hills will cross the country along its entire length, both small and large, but there are real mountains in which it is dangerous to wander alone, because the rocks can still move, and from time to time this happens.
And of course, the island of Ireland, like all the islands in the world, is surrounded on all sides by water - the Irish Sea and the Atlantic Ocean, and the famous warm Gulf Stream is the "culprit" of such a mild climate that makes this country so attractive for year-round, in particular, tourism on bicycles, on foot or with Scandinavian sticks - in any season of the year there are no sharp temperature drops, no harsh snowy winters, as there is no winter at all - the island adorns the eye with its green carpet all year round, though for truth, I should tale However, after about a decade interval in Ireland, it still snows for a couple of days and quickly melts, so the lambs do not have time to get rid of, although the Irish themselves come to a state of panic — after all, it is not customary to change tires, depending on the season. So they sit at home and wait until the snow melts :)
In some counties, as I have already mentioned, there are frequent rains, sometimes gentle and short, loose and long and foggy. If you look at the island from the point of view of its location on the globe, and this is a purely practical approach, it also turns out to be quite beneficial in everyday and financial terms - the Emerald Island is located not so far from the continent of Eurasia, and fly to it in general Russia, say, does not take many hours compared to other countries or islands. This is me to the fact that it will not be difficult to fly to the rest of your family, it's still not Australia, not Canada.
The whole of Ireland is divided into counties, which in English is called the word '' county '', taking into account Northern Ireland, a total of 32, and the Republic of Ireland itself is divided into 26 counties. The division is administrative, and rather conditional for the inhabitants of this state themselves, although the Irish are proud of the county in which they were born, for there is a very ancient and remarkable custom in Ireland. Throughout his life, it is common for a person to change his place of residence even in small Ireland, and he moved, say, to Dublin, born in Sligo, and talk about himself as a joke, he will be '' Sligo-man '', answering the question - Where are you from? But after death, the Irishman returns to his land, to the one that gave birth to him. " And going to his funeral at home and his former neighbors, and of course, his whole big family, clan, all who still live. In general, the funeral of the Irish - is a completely different and very, in my opinion, an interesting story, but more on that in another article.
Having moved to Ireland quite by chance 12 years ago, I loved this country, and I took many things in the Irish way of life. Being a Muscovite in the past, even now, when I get to Moscow or Russia, I unconsciously compare everything all the time, and my comparisons, despite the fact that I always signify that I am Russian, was born and raised in Moscow, not in favor of our Russians order, behavior in society, in the style of driving a car, and much more frankly saddens me. And if you, like me and our other compatriots who came to Ireland from Russia and from the countries of the former post-Soviet space, are tired of the Russian rudeness at the household and official level, if you look for silence and civilized comfort within the capital, wherever you are, whether in Dublin or in a quiet Irish village on the western side of the island - benevolent and polite people will surround you.
I want to say especially about one important circumstance that is a priority for me personally - the Irish lack the manner of being rude or insulting people both at home and in society at the genetic level. According to UNESCO statistics for 2003, this nation is in the world in the first place in communication in society - '' social communication and care ''. Having lived in this country for many years, I have become accustomed to many manners of Irish behavior and communication with people, but I still don't think and think about it, but still where does this nation despised by arrogant Americans and centuries exterminated by stiff British have come from? such innate intelligence? And it appears the more obvious, the further you find yourself from the capital.
Like me, you will soon get used to leaving your car open, or forgetting an expensive thing in the gym, you will get it back at the reception even after two months, as it happened to me, and this will also become a self-evident everyday fact in this country among these people. Irish - do not steal. If you want to come to officials of different levels or go to the doctor for an appointment, you will not need to "bother" and on the way buy a box of chocolates in the hope of a better attitude or treatment towards you if you like English and do not like long, cold and slushy winters - then you should think about Ireland more seriously and thoroughly examine many things that are happening in the social and public life of the Irish, so that your decision to move to Ireland becomes deliberate in all senses and points .
You will be pleasantly surprised by the natural courtesy of manners and the open goodwill of people along with only the Irish sense of humor, which the Irish themselves call the word '' dry '' - '' dry irish humor with a pinch of salt '' - '' dry Irish humor with a pinch of salt ' '- in general and in the main thing and makes a portrait of the Irish nation. Here you will never get stuck in a store or in a pub, it is simply impossible to imagine, and if you are not satisfied with something when choosing or buying goods in a supermarket, big or small, the manager will always be on your side, because here the client is always always right .
Getting to Ireland, you actually get to another world. And I would advise you to take these words of mine seriously. For these are not just beautiful words. This is the world and life created by the people, which initially and still lives, communicates and works in the system of production and economy, which is called capitalist, and where business is passed from generation to generation from father to son, where the honest name and reputation of your firm, big or small - the most important thing in working with clients. You rightly argue that many countries live under capitalism, they have become developed and rich, and we are starting to master this economy. You are certainly right in your remark, but please do not forget about the way the Irish, as a nation, differ in their mentality.
In this world, live peacefully and unhurriedly. No wonder that such old houses with reed roofs have long become a kind of unique symbol of cozy Irish life and which is so replicated by the industry of cinema and tourism.
I will not say that it is easy to live from a financial point of view in the Irish built world and society, this is a separate and ambiguous question and I will talk about money in another article. I want to say that, indifferent to all difficulties and problems, there is always a place in their world for an open or sly smile and contagious humor, and these people constantly joke with them, and even the representatives of the Irish GARDA police are calmly polite under any circumstances. (You can read my article about the Irish police at this link I love GARDA!.)
So starting your new life in Ireland, you will at least avoid the bitter feeling of a "migrant worker", no matter what nationality you may have, and will not point fingers at you or arrogantly not notice how you will not curse at the back that you have taken someone's workplace, but you will comprehend all this under one condition, that you yourself will bring the best features of your character to the island, and along with the Irish you will also work hard and a lot famously drinking in the local pub famous irish dark Guinnes ... or whatever you like best ....
This is not the point anymore :)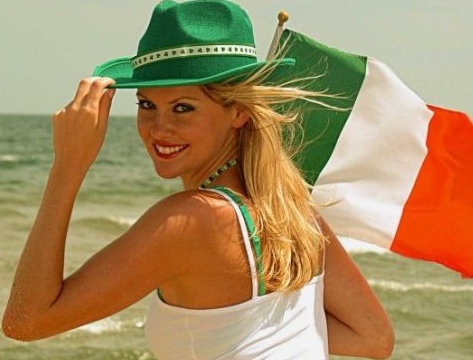 If you, after reading my article, have the feeling that I have described both Ireland and the Irish people as an ideal country and ideal people, then I dare to assure you that there are enough difficulties everywhere, and Ireland is no exception. Its economy was also subject to the most severe global crisis, which hit virtually all states. Thousands of Irish people lost their jobs and at the same time were forced to give their homes to banks. I wanted to clarify to you that these everyday problems and everyday life, and life in general, are easier to carry with these people, who are not afraid of difficulties or the influx of foreigners in their small country, and this is helped by innate tact, intelligence and decency in the highest sense . In everything and in relation to everything.
To be continued