Many of us know that sailors are superstitious people, and their superstitions especially spread to women who until the middle of the 20th century were not allowed to board the ship.
The Pirates Code reads: "Neither the boy nor the woman is allowed to be on board of the ship.If someone who is tempted by an affair and under the cover of night secretly leads a woman to the ship, and will be found by his teammates, will not escape the painful death at the hands of his own comrades ".
But the history of the Irish piracy keeps curious facts about exceptions to this extremely harsh rule for the past centuries ...
The Ladies Pirates of the Caribbean Sea
or
"Eease up a bit, Filibusters!"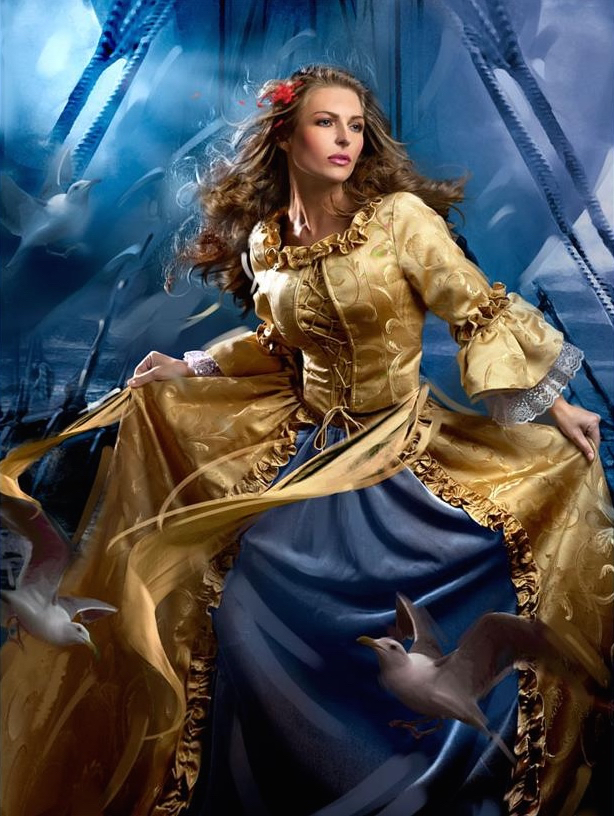 But I think that very few of us know that this belief was led by the "black knights" of the sea, whose luck, destiny and human happiness were bestowed on the sailors by the capricious Lady of Roman mythology, the Goddess of the blind case of Fortune, and life on the sea depended on so many many variable factors that the presence of women was decided to equate to all of them and recorded it on paper in 1721. Then the "Pirate Code of Conduct" came into being.
All the famous pirates followed this "Code", it had its own laws, identified by articles and entered in this Code, these articles were called "Decrees" and one of them was and is registered for women ...
"Decree VI" was agreed between the teams of pirates and their leader, "Black Bart", Bartholomew Roberts - Bartholomew Roberts, and he said:
"Neither the boy nor the woman is allowed to be on board the ship.If someone who is tempted by an affair and under the cover of night secretly leads a woman to the ship, and will be found by his teammates, will not escape the painful death at the hands of his own comrades."
Well, what can one not do in this world, full of injustice, to weak women these days, and what only did not have to do in the time of a hundred years ago! This is more than it refers to the middle ages, when no one even thought about women's equality, but brave and resolute women were born at all times, and there always were and will be representatives of the beautiful weaker sex whom nature bestows with exceptional qualities of character, which, at times, so lacks other men.
''What you think, collegue- are we lucky being the pirates?''
The impassive historical chronicle reveals many facts about those unusual women who, in good faith, following husbands who could not think of anything else, how to go into pirates to feed their families, or the evil fate of their destiny, but took up a pistol , an ax or a knife and joined the ranks of "black knights".
Whatever their personal motives, get on the ship and stay on it for "work", these brave ladies could only on one condition - changing into a man's dress, so as not to frighten off the volatile pirate "fortune."
Among the most famous women - pirates of the world called the names of Anne Bonny - En Bani and Mary Read-Mary Reed ... So, my dear readers, if you love adventure and you are not averse to adventurism, if you are sick tired of being a housewife with your own husband, or sitting from 9 to 6 in a dusty office, then my article can to some extent serve as a guide to action, because now you can not say that history knows no precedent. Just "Her Majesty the Story" has kept the names of all the women who have gained fame in the open spaces of the seas and especially in the Caribbean sea basin, a famous place for many centuries favorite by all pirates.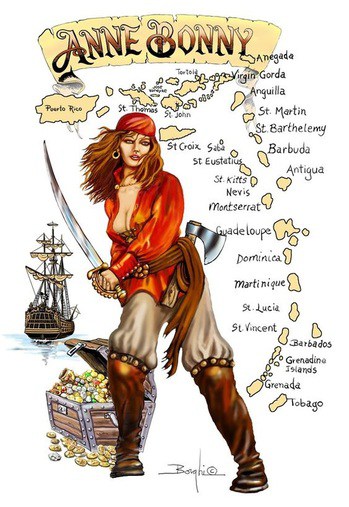 And it remains for you only to choose a suitable suit and hat with an intricate pen - an indispensable attribute of every self-respecting filibuster ...
"But jokes aside" -and jokes aside, as they say. The fate of the Irish En Bani is intertwined with the history of her native Ireland, and it is unlikely that at that time of rebellion one could live a calm, happy, and, most importantly, a long life if the life span in those days was on average 30-35 years ...
The family of En left Ireland and moved to America when she was still a child. Very soon the girl lost her mother, her father tried to make a living and raising a daughter's lawyer practice, but was not very lucky.
She married an impoverished sailor with the dirty reputation of a half-pirate, and soon the young couple moved to Nasau, where En awaited her extraordinary destiny, which had nothing to do with the life of an ordinary married woman.
The enterprising En Bani, not relying too much on her husband - the nerd, in modern terms, started hanging out in local taverns with pirates, where she soon became acquainted with Jack Rackham, the captain of the Jack Rackham single-mast boat Jack Reak, and became his mistress. They had a son. En divorced her husband and married Jack. Jack, En and another adventurer, Englishwoman Mary Reid, stole the "Revenge" and went out into the open sea, began to lead a free life of pirates.
Having typed command, they began to seize ships with valuable cargoes. An interesting fact is that neither En nor Mary on board the ship hid their feminine essence in a man's suit. En participated in the battles on a par with men, only she did it away from the team, but her share of captured treasures or other values ​​was not less. For her courage in battle, An deservedly enjoyed the respect of the whole team.
For many months, Revenge - "Revenge", led successful raids on ships of different purposes, which eventually prompted the governor of Jamaica to issue a decree on the capture of the pirates from "Revenge" - "Wanted Pirates" - "Wanted Pirates", and in October 1720, the ship was attacked and the whole team was captured. The reason for such an inglorious end for the whole "Revenge" team was very trite - the pirates went to their "work", being drunk, as a result of which they could not give a worthy rebuff to the British soldiers. On trial, the entire male part of the team was found guilty of atrocities and sentenced to hanging.
In her last speech, En spoke out about such an unhappy end to her marriage with Jack:
"If he had not been drunk and fought like a man, he would not have been hanged today like a dog."
En and Mary pleaded guilty to crimes, but since they were both pregnant, the court postponed their execution and sentenced to imprisonment before the birth of their babies. Mary died in prison, as some sources say, during childbirth, the further fate of her "colleague" in the pirate share and girlfriend En Bani is covered with riddles ...
The monument ''Sisters of Sea'' at the Bahama Islands
There are several versions in this regard. According to one of them, En could not escape the execution after the birth of the child. According to the second, she was allegedly bought by her father, returned to America, married and died at an advanced age. On the third, En was bought by her father, but with new documents she continued her pirated life ...
Choose any of these versions, friends ... Personally, I prefer the latter, because I want to believe that En did not change her nature and died with a sword or a pistol in her hand, for she was born with a stubborn blood in her brave Irish, with her dream of a woman's happiness ..
Kinsale, co. Cork - ''The ocean is just around the corner, sir! You won't miss it! '' ...An ideal harbor for the piratic ships to hide...
Kinsale-, this is the name of an unusually picturesque place on the south-west coast where Anne Bonny was born around the end of the 17th century, where large and small ships come from the Atlantic ... Once there, I fell in love with these places forever and leave for Kinsale to have some break from my routine in Dublin .... The breath of the ocean will take you from here to its great expanses, where everyone can meet the ship of his dreams ...
Just what kind of sails are you up to? ...