Veronica Guerin -was an Irish, she was mother, wife, journalist, but above all - she was just a woman ...
In 1996 she was shot in her car after several warnings - threats that came from the Irish drug lords. In one of her interviews, she said very simple words about her private investigation into the drug business in Ireland:
''I don't want to do this, but I have to''
"I do not want to do this, but I have to''
1996 ... Two motorcyclists following her car, stopping at a crossroads, released 6 bullets in broad daylight into a woman who challenged the Irish mafia. This was the struggle of a single journalist with a real mafia group whose criminal ties went far beyond the island and who spread drugs throughout Ireland ...
The murder of a female journalist who rejected the proposal of the Irish police to use personal protection and which, despite the incoming threats from the mafia, managed to find undeniable evidence of the involvement of its mafia leader, John Giligan, in this business, caused indignation and indignation throughout Ireland, as an attack on the democracy of the entire Irish state. The Irish Parliament, within a week after the murder of Veronica Gerin, adopted a new act on tax evasion, as a means of combating drug-related crime.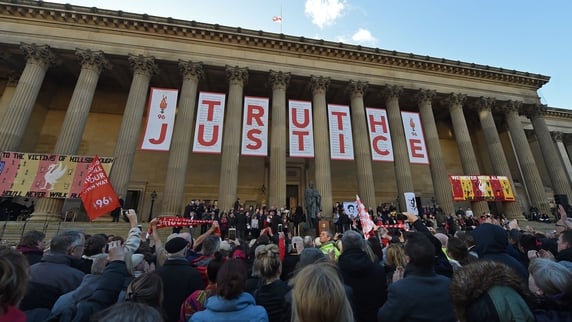 The Irish at the Supreme Court in Dublin on the day of the 12th anniversary of the murder of Veronica Guerin
In the same week, the Crime Act 1996 Act was adopted, which allowed the criminals to take away all their property by using illegally obtained money, and at the same time a Bureau was established to investigate illegal ways of buying all sorts of property - Criminal Assets Bureau '. As people of the older generation told me who remember that time well, a huge number of private possessions of the most varied rating were selected from the leaders of criminal gangs throughout Ireland, and the state treasury received million sums from the sale of posh villas, stables with racehorses, fabulously expensive machines of the latest models, yachts, etc.
The traffic in drugs and their use among adolescents and youth in Veronika Girin's murder year fell by 15 percent and this figure stayed for 12 months.
That day - June 26, 1996 - the whole country said goodbye to Veronica: people honored her memory Minute Silence and the Irish radio broadcast in the Irish language about her funeral.
.When I read about the life path of Veronica and learned that she changed her profession several times, until she became a journalist, that knowing the Irish way of life and patriarchal adherence to traditions and a permanent place of work, especially if it is a well-paid job, for the first time the look seems incredible. But behind all its movements I see what the people call God's Providence. It can be seen that if there were no men who wanted to fight drug addicts in addition to the police in order to try to protect themselves against the destructive effects of drugs on the fragile body of their children and protect their families, it occurred to Veronica Jirin.
Veronica was born on July 5, 1958 in Dublin in the family of an accountant, where in addition to her, the family had three more children. That's why she was nicknamed Ronnie since childhood. Veronica showed herself very gifted in the sport from a young age, she started playing soccer, basketball, and kamogi, this sport game for women, ksati, was first registered in Ireland. In the final soccer game for the whole of Ireland, she played in her team with a damaged knee disc.
Veronica followed in her father's footsteps and began to study in Trinity Colledge - Trinity Bookkeeping and after finishing to work in her father's fima, she married and gave birth to a son.
Veronica with her family - with husband and their son
Three years later, when her father died, Veronica sharply changed her profession and set up her public relations firm, which she managed for 7 years.
During these years, she also worked as a personal secretary to one of the prime ministers of Ireland in those years, Charles Hagie - Charles Haughey - who ingloriously ended his career after a series of several noisy scandals on corruption charges and other dishonest cases as Prime Minister of Ireland.
It can be assumed that, having become a close friend of the Premier's family, thanks to her public profession and being an accountant by training, Veronica already then began to observe and calculate illegal incomes and to intercept the sources of their income, for the scandalous Premier, having received the nickname "The Great Houdini" he denied himself anything - he had luxurious estates and beautiful women, and did not hide from the people that he was "not such" as all other people.
Scene from the movie '' Veronica Guerin '', where Cate Blanchett plays ''Veronica''
In 1990, Veronica left her business in the field of public relations and began working as a reporter for the newspaper "Sunday Business" and "Sunday Tribune". For several years, Veronica has established close ties with both police and criminal circles. Her principled position in using only reliable facts in her reporting on crime, caused respect not only in GARDA, but also among the criminals themselves.
Since 1994, Veronica has started working for the '' Sunday Independent '' and has taken up the private investigation of the flow of drug crime in Ireland, the sources of this business, the ways of delivering drugs to Ireland, using her knowledge in accounting, and now, faced with Irish drug - Mafia in the streets of Dublin and meeting with members of many criminal groups personally, Veronica, to circumvent the law, which she had occasionally violated in the name of seeking the truth, worked under different pseudonyms ...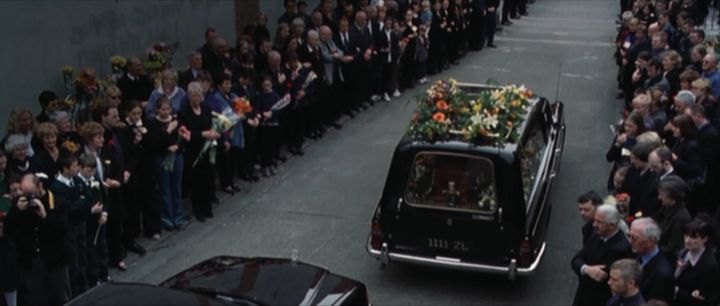 Big farewell to Veronica came out thousands of Irish ..
The first warning - the threat of Veronica was received in October 1994, after her article about the murdered drug addict Martine Cahil-Martin Cahill was published, and which served as a kind of conviction for John Traynor, a prominent member of one of the drug groups, John Traynor. Two shots were heard in her house, as a warning about the most terrible consequences, if the journalist did not stop. Veronica did not pay attention to this, nothing could stop her, her personal interference into the dirty deeds of criminals from drug business was too far gone and too many genuine facts about these dark matters had already been made public and known to the police ... January 30, 1995 , the day after the publication of her next article about drug dealers, Veronica opened the door of her house when she heard the bell, and the man behind the door, hired by John Traynor, put a revolver in her head and shot her in the leg, and this was the next, second ie, a warning from the mafia. After that, the editor of the newspaper handed Veronica a secret security device, the Irish police GARDA provided Veronica with 24-hour security.
But Veronica refused the police escort, saying that it is absolutely incompatible with her private investigations, and that in the long run she will not be able to march to the gang leader.
A scene from the movie '' Veronica Guerin ''
On September 13, 1995, the leader of the drug group, John Gilligan, whom Veronica had publicly accused of running a luxurious life for illegally obtained funds, broke into her house and threatened Veronica that he would rape her son, set her house on fire and kill her if even at least the word will be about him in the newspaper.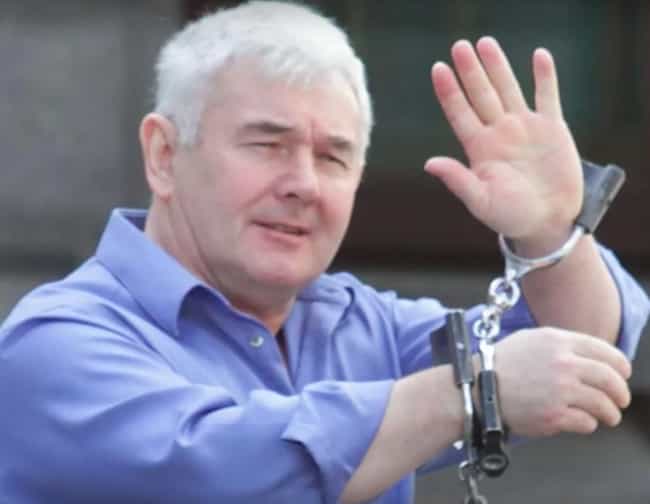 The Investigation Into Her Death Led To 150 Arrests- John Gilligan still does not give up
On June 26, 1996, returning from a business trip to Dublin and unaware that her '' lead '' two motorcyclists, Veronica stopped at a crossroads on a red light ...
The murderer Veronica Jirin - Bowden - Bowden - was the first criminal who testified in court on a witness protection program with a risk to their lives. He was sentenced to life imprisonment. As a result of the investigation into the murder of journalist Veronika Jirin, he was arrested in Britain, placed in Ireland and sentenced to 28 years in prison.
And this very unequal struggle could not win either winners or losers, because hemp, for example, is now grown in Ireland itself, and through the Emerald Island one of the drug trafficking of their South America passes to the countries of Europe, and after the annexation of the former Soviet republics narcotic - octopus, new tentacles from criminal faces of Moldovan, Romanian,Latvian, Russian and other nationalities, and the use of drugs, both natural and chemical production, is still widely in demand in this country.
But is it only in Ireland?
No, I'm not a pessimist. But like any educated person, I can not help but acknowledge the fact that mankind, at the dawn of his youth, found different means to at least temporarily escape from the harsh reality of life. And therefore, while there is a demand for our cowardice, the seller with the goods will always knock on the door.
On May 2, 1997 in America, in Virginia, the name of Irish journalist Veronica Guerin was mentioned among 38 other journalists around the world who, fulfilling their civic and personal duty for the true values of society, gave his life.
In 2000, among 50 other journalists, the name of Veronika Jirin was named the International Press Institute - the International Forum "Journalists - Heroes".
Memorial Veronica Jirin is installed in the '' Dubh Linn '' in Gardens Dublin Castle.
In 2007, in honor of the memory of Veronica Guerin, a program was organized at Dublin University for those journalists who decided to specialize in this narrow direction of journalism - private and personal investigation.
About the Irish journalist was filmed two movies:
''When the sky falls'' - 2000
''Veronica Guerin'' - 2003
A Song ''One More Day''- In loving memory of truly remarcable woman
Veronica was only 37 years old.