For parents, and for those who have already decided to get an education in Ireland, but have not yet fully decided on the final choice, I will talk about the education system on the "emerald island", about private and public schools, colleges and universities, and the possibility of obtaining grants for study in this country.
When and Where to Go to Study in Ireland?
New school year at the oldest University in Dublin- in Trinity College
Ireland has a long and glorious tradition in the field of education, which dates back to the Middle Ages, when the monks of the Christian Brothers Order were the main bearers of knowledge. The age-old traditions, fortunately, are not lost, and are reflected in the modern education system, which largely determines the widespread recognition of Irish educational documents worldwide and the ever-increasing flow of foreign students who come here to study, but education in Ireland is still divided into private and state.
TRADITIONAL IRISH EDUCATION IN BOARDING SCHOOLS
Boarding school in a high-prestige area in South Dublin, in Blackrock
The traditions of private schools, I think, will never die. All the best, including knowledge, good manners, the ability to play golf and dance, ride a horse and fence - is instilled in pupils in the strict and compulsory order right here and today. The task of every private school is to cultivate within its walls a "gentleman" in the highest meaning of the word, the future elite that will lead society. But private schools are closed schools, and not every child can get into them. Here and now there is a certain caste - if the parents at one time finished a private institution - even their children - there is a straight road. And it is in private schools that the friendship is established, with which its pupils remain faithful all their lives, and other doors open to them in other institutions. It is believed that corporatism in such cases is for the benefit of the whole society. With this, of course, one can disagree, it is only difficult to dispute the obvious advantages of good traditions, excellent education and good manners, and it is difficult to overestimate it today.
Boarding Castlenock College is based in Phoenix Park, Dublin
Diplomas of private Irish schools are valued all over the world, and this is not without reason - they focus on economics and science, and it is not surprising that computer and engineering technologies, banking, medicine and science are considered to be the most powerful and advanced areas in Ireland. If national free schools exist in Ireland, in the form in which they are now, only from the beginning of the 1960s of the 20th century, then private schools have been operating here since the Middle Ages.
For example, these are the most famous private educational institutions in Ireland:
Blackrock College, Castleknock College, Kylemore ABBEY School, Loreto Convent, St. Stephen's Green School, Mount Anville, Rathdown School, Rockwell College, The Bower School, St. Andrews School, St. Gerard's School, St. Ita's School et al.
The principals of private schools are practically independent of state administrative bodies of national education. It is they who are empowered to select teachers at their discretion, and the director determines the content of the curriculum in his school. The system of education of some private schools requires a permanent residence of the student in a boarding school. It means that only living together within the walls of a boarding school can lead to close and deep knowledge of each other, in which the qualities of both the subordinate and the manager are effectively inculcated. (Recall one of the sons of Princess Diana, who, like all of them, packed cargo with humanitarian aid into one of the countries that suffered a disaster). It is believed that the Crown Prince will take better care of his subjects, if from childhood he shares with them all the burdens of life.
And the indisputable fact is that the owners of the "network of old school friends" have more chances to enter a privileged university than graduated from free general education schools, and holders of university degrees - Irish Trinnity College, or English Oxford and Cambridge, dominate both in political state structures inside European countries, and at the European level, not to mention the other key structures of commercial and public areas.
STATE PRESCHOOL AND SECONDARY EDUCATION
Externally, the public education system in Ireland can be divided into three levels: compulsory high school, 2-3 years of preparation for university, and 3-4 years (depending on the chosen specialty) university / college education. Successfully graduated from university, a bachelor's degree is awarded. Further, at will — master's and doctor's degrees.
''I am attending Irish kinder-garden''
1st level -
includes two stages - Montessori School (one of the forms of starting primary education for young children, which encourages and develops natural skills and interests, and, at the same time, a kind of preparation for entering primary school - Primary School) - from 2.5 to 6 years and Primary School itself (primary education) - from 4 to 12 years.
2nd level -
Secondary School (secondary education) - from 12 to 18 years. College (one of the forms of completion of secondary education and at the same time the acquisition of a specialty) - from 16 to 18 years. Private college at the university level (one of the forms of completion of secondary education and at the same time preparation for entering a particular university) - from 16 to 18 years.
3rd level -
Higher education institution - from 18 years and older.
An Irish child begins school life usually from 4 years. Although it is possible and not to give the child to school up to 6 years. In elementary school, eight years of study. In addition to free primary schools, there are several paid boarding schools - they work according to the British preparatory school system ("prep" school).
High schools in Ireland are also public and private. In addition, there are graduate schools that prepare for university entrance, public (community) and professional (vocational). The first give academic and technical education, the second - specialize in vocational training.
Irish secondary education is also divided into three levels:
Junior high school (Junior Cycle)
- a three-year course from 13 to 16 years, during which students study about 10 subjects, such as mathematics, natural sciences, languages, business, art, technical courses, etc. After three years, the Junior Certificate exam is taken.
Transition Course
- during this year, in addition to the main subjects, the emphasis is on disciplines that broaden the schoolchildren's horizons - computer, other languages, culture, design, crafts, photography. In the schedule of the transition year, classes are combined with a large number of discussions and practice in various institutions, when schoolchildren can decide on the choice of their future profession.
Senior Cycle
- the remaining two years form the final cycle, during which 7 subjects are studied. After graduating from high school, students take an exam for a Leaving Certificate. Exam results are rated in the six best subjects. The maximum you can score 600 points. Over the past two years, students have studied at least 6 subjects, two of which (English and mathematics) are compulsory. The remaining 4 subjects are selected at will from a large list proposed by the school, based on a defined range of interests - biology, chemistry, physics, geography, economics, accounting fundamentals, history, business organization, commerce, languages, art, drawing, music, physical education .
After graduating from Senior Cycle, students take exams in six, seven, or eight subjects, and receive a Leaving Certificate, on the basis of which they are enrolled in universities, and not only in Irish ones.
High School in Cork, West of Ireland
I should also mention here that studying in Professional Technical Schools is very popular in Ireland, since it is much cheaper compared to expensive education in High School and not all Irish families can afford to pay such tuition to all their children. These are numerous schools of paramedical staff, plumbers, electricians, various auto mechanics, cooks, etc., very popular specialties in our society. But I am telling about that type of education I ireland in my second article - ''All about Education in Ireland -2'' you are welcome to read.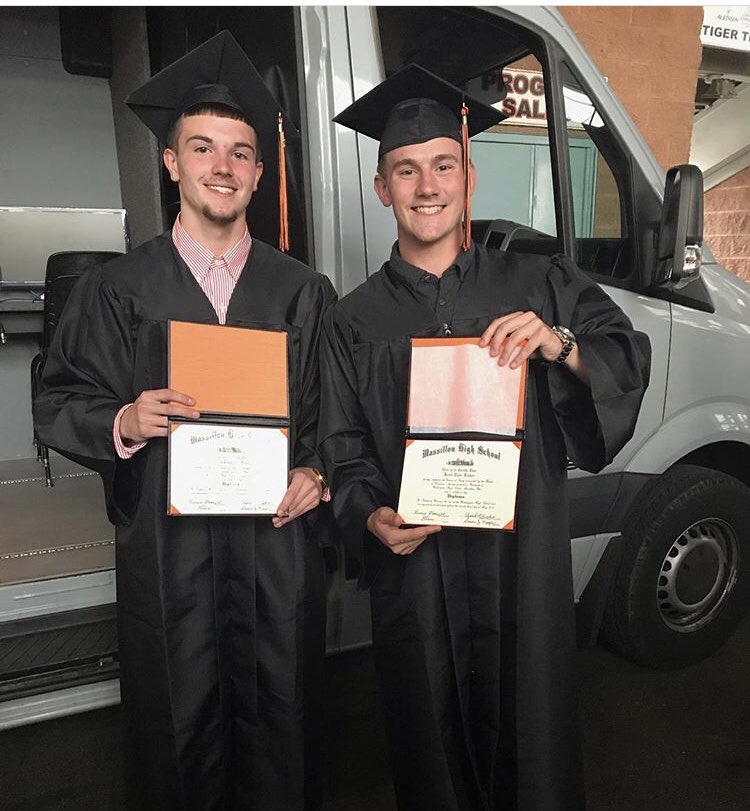 Proud Graduation from Technical Professional Scool
HIGH EDUCATION
The system of Irish Higher Education (the third level education) is state universities, vocational colleges, and pedagogical institutes. Recently, private, mainly business colleges and IT schools have begun to appear.
There are 9 Universities in Ireland. The most famous, located in the center of Dublin - Trinity College
Everything about learning, traditions in the oldest University of Ireland in Trinity and how to get a grant for education you can find out by viewing two of my videos from this University -
Trinity College, (University of Dublin) Dublin centre
Trinity College Diploma looks like
Another famous university - National University of Ireland (NUI) - consists of three colleges:
University College Dublin - UCD
University College Cork

University College Galway.
This association is quite formal: all three colleges are autonomous and self-governing, each of them has the status of a university.
In addition, three more colleges are accredited with the NUI: one of the most prestigious medical schools in Europe is
The Royal College of Surgeons
St Patrick's College
St.Angela's College
St Patrick's College, Dublin
The Irish include one of the six "natives" and two universities located in Northern Ireland (the territory of the United Kingdom):
Queen's University in Belfast
University of Ulster
Universities are, first of all, scientific and research centers, and in them come primarily those who want to devote themselves to a scientific career. All Irish universities have faculties of humanities, natural, technical, social sciences, economics and medicine. At each there are three stages: bachelor (3-4 years), master and doctor.
As in England, in Ireland, the basis of university education and the main pedagogical method are individual lessons of a student with a teacher (tutorials).
Well, dear future students - good luck to you in institutions of higher education in a hospitable and beautiful Ireland. As they say here in such cases -
''The best of Irish luck!'' :)